Regular price
Rs.795.00 PKR
Regular price
Sale price
Rs.795.00 PKR
Unit price
per
Sale
Sold out
Manicure pedicure is the beauty treatment for hands, feet, and nails. Manicure pedicure treatment is ideal for ladies as it eases your muscles, relieves stress, and increases blood circulation. For glowing and charming skin, one has to take care of her skin. It provides proper care to your hands and feet which results in skin softness and glowing skin. This manicure pedicure kit includes: 
Shampoo with red berries and peppermint---------- 60ml.
Scrub with red berries ----------------------------------50ml.
Whitening cream bleach -------------------------------10ml.
Vegetable mask with red berries---------------------- 50ml.
Massage cream with red berries -----------------------50ml.
Golden Girl Soft Touch manicure pedicure spa kit is popular for its effectiveness as it is made purely from natural ingredients. The manicure pedicure kit price in Pakistan, offered by the Soft Touch brand is economical and provides quality and instant results. It is rated as the best manicure and pedicure product in Pakistan by consumers of Golden Girl Cosmetics.
How to Use:
Step: 1: Take warm water in a manicure bowl and add a sufficient quantity of Mani and Pedi shampoo, one teaspoon table salt, and one teaspoon vinegar. Soak both hands in the bowl for 15 minutes. During this time, take one hand out and massage with the provided scrub cream for about 5 minutes. Remove cuticles with cuticle remover. Replace the hand in the water and take out the other hand. Repeat the same procedure for this hand also.
Step 2: After 15 minutes remove both hands from the tub and dry with a towel. Now prepare the bleaching mixture from the sachet provided. Apply the mixture to both hands and let it remain for 15 minutes. Remove it after 15 minutes and wipe it off with a wet towel.
Step 3: Apply the provided mani and Pedi massage cream generously and massage for 10 minutes. Wipe off the excess massage cream with a wet towel.
Step 4: Now apply the provided vegetable mask in a thick layer and let it dry. Once the mask has dried, wipe with a hot moist towel and enjoy the soothing and relaxing feeling of the manicure treatment.
For the pedicure, first, do dry scrubbing of the heals with the Pedi file and then follow all the above steps.
Skin Type: All skin types
Product Weight: 5 Items

Storage Instruction: Keep in a cool and dry place.

Package: Kit
Share
View full details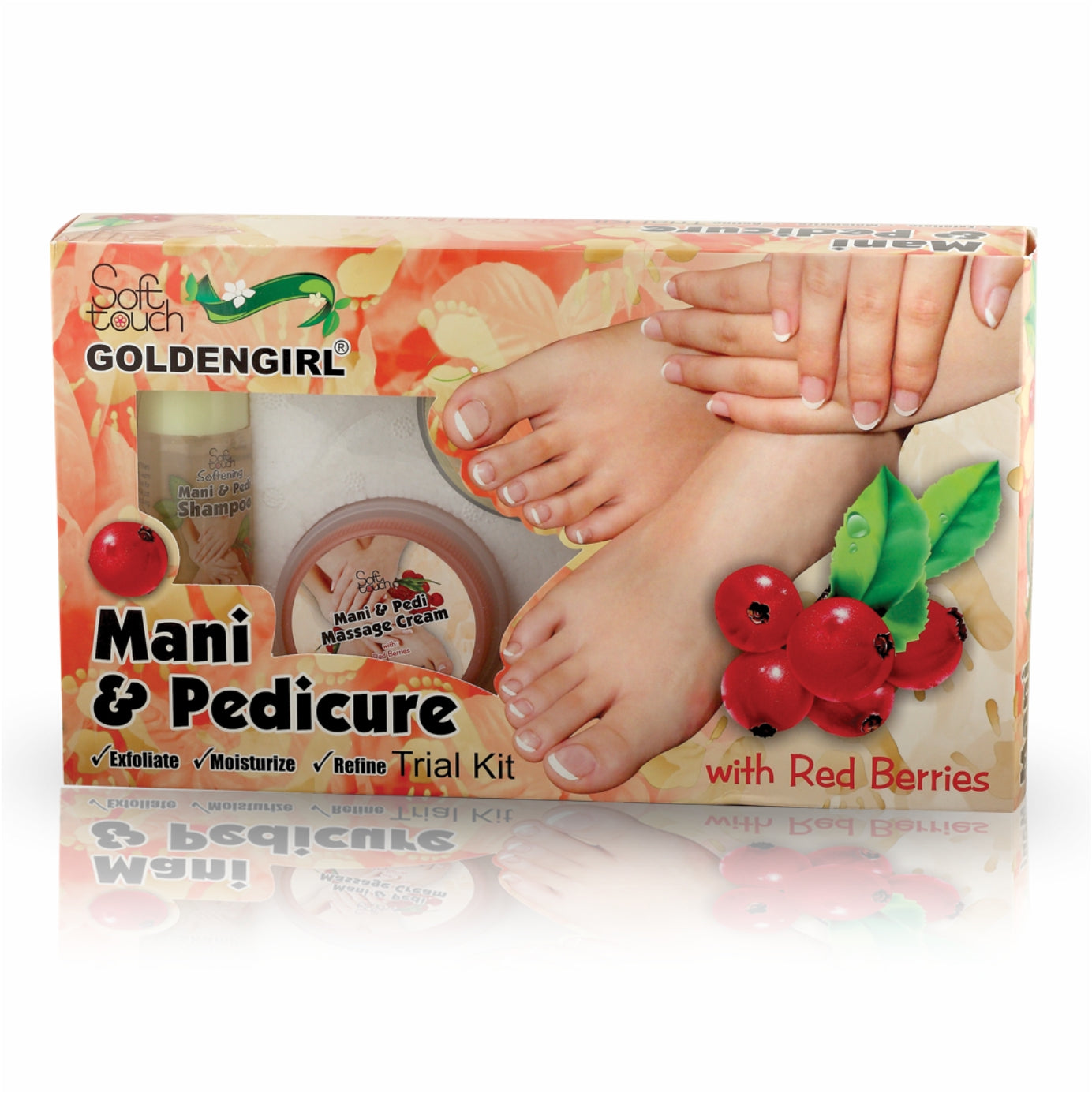 Mani Pedi Trial Kit
I have used it once only and my feet look so smooth and soft. It is an amazing, easy and quick Mani pedi that you can do at home. No need to spend tons on parlour, when you can get the same result at home with GoldenGir cosmetics.
Menu and Pedi
Meni and Pedi results was so amazing 🤩
I really like the steps of meni and Pedi .
Love itttt
Mani & Pedicure Trail Kit 5 Items
Amazing as Always
I am impressed with the services and product delievery status. The product are already tried and tested.